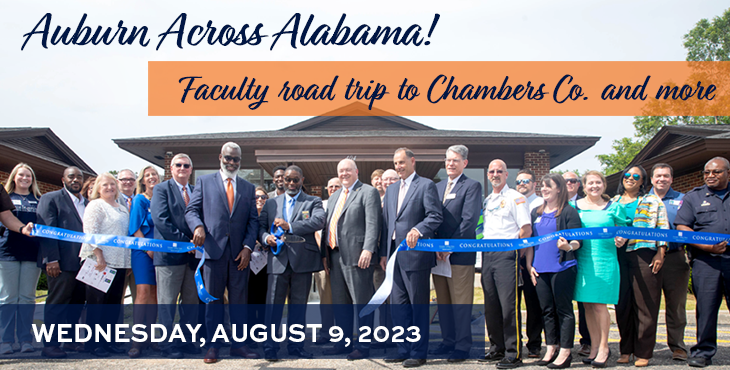 Auburn Across Alabama Experience
University Outreach, the Alabama Cooperative Extension System and Student Affairs have partnered to create the Auburn Across Alabama Experience, hosting a series of bus tours throughout the academic year. The overall goal of this program is to provide Auburn University faculty, staff, students and administration with experiences across the state to help them better understand the needs, assets, and opportunities for engagement throughout Alabama. The anticipated outcome is to develop and sustain relationships across Alabama to impact communities collaboratively and positively, ultimately building a better Alabama.
Fall 2023 Faculty Experience
University Outreach and Alabama Cooperative Extension System invite faculty across campus to experience the beauty of Chambers County and Lee County. During this structured and guided bus tour, participants will visit medical facilities, key industries, educational institutions and hear from panels of local leaders about the assets and challenges of their communities.
Date: Wednesday, August 9, 2023 7:30 AM – 6:00 PM
Capacity: 40 faculty members
Apply by July 28, 2023: Apply Now
Spring 2023 Student Experience
University Outreach and Student Involvement partnered with the City of Montgomery to immerse student participants from multiple disciplines in educational, professional and recreational experiences in the great capital of our state.
Fall 2022 Faculty Experience Summary
Tour participants experienced community needs and assets through the lens of local leaders and community members in Tuskegee, Montgomery, and Selma. Visit included historical sites, museums and a range of industries, businesses, educational and recreational sites, and facilities.
Provide an experience that will immerse participants in the unique aspects of our state and facilitate an understanding of the opportunities and challenges facing Alabama residents.
Expose participants to the diverse backgrounds that Alabama students bring to Auburn University and consider ways to engage a more diverse body of students.
Promote synergy among faculty, staff and administration from different disciplines as they travel together and react to their shared experiences.
Strengthen relations with Auburn University alumni engaged in the tour.
It is expected that all who are registered for the experience ride the bus along with all other colleagues and fully participate in the experience at each destination.
Participating faculty are asked to integrate the experience into their teaching, research, extension/outreach, or service agenda based upon the community needs and assets they identify.
Participating members of the staff and administration are asked to support faculty as they develop projects that respond to their areas of interest based on community needs identified during the experience.
Faculty participants will be hosted for a follow-up gathering supporting the development of projects they conceptualized during the experience.
Participating students are expected to consider internship, outreach projects and professional opportunities in the communities they visit, soliciting faculty and staff support as needed.
Read more at the links below to learn about the communities we experience.
How to apply:
Interested faculty use the button below to apply by July 28, 2023.
Only 40 spots available!
Last Updated: July 3, 2023